Today when I heard about the Supreme Court ruling for same-sex marriage, I tried to memorize the morning. The mug of French roast coffee. Michael Franti singing on my iPhone. My husband on the couch, reading sports headlines. A scroll of news on my computer. My 11-month-old son crawling on the floor, building a tower of soft blocks. It was so normal, so everyday.
And yet, it was extraordinary.
I wanted to imprint it all on my brain so someday, when my son asks about the historic day all Americans received the right to marry, I could tell him every detail: The pale haze that diffused the sunshine. The humidity that hung thick in the air. The whirr of a lawnmower. How history was just a moment after breakfast, when everything was the same and different all at once, and a cup of coffee was suddenly underscored with great importance, and I was joyful.
Then I realized my son might never ask me about this day at all — because he will have no reason to. He will grow up in a country where people just get married. No qualifier.
This is all he will ever know: That people love and are loved.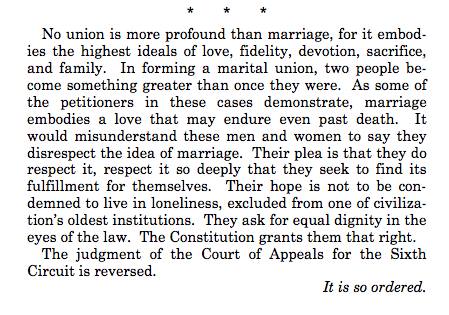 Thank you, America.