Checking in on my reading goal for the year. I hope to read at least 50 books in 2017, and so far I'm two ahead of schedule. Here's what I loved, loathed, and meh-ed.
Imagine Wanting Only This • Kristen Radtke
The death of a beloved uncle triggers a fascination with ruins and hollowed out places in this graphic memoir. Luminous, melancholy, and unlike anything I've read before.
Scratch: Writers, Money, and the Art of Making a Living • Manjula Martin
A solid collection of essays and interviews about writing and commerce. It's rare and refreshing to hear real talk about money, especially in my field, and I highly recommend this to other writers.
The Hate U Give • Angie Thomas
A young adult novel about a teenager drawn to activism after the police shooting of a close friend. This is the book everyone should be reading right now.
These stories plunge the reader into the lives of very different women — two sisters haunted by a past crime, a stripper with a stalker, a black engineer in a small, Midwestern town, a woman who loves her husband's identical twin. The women aren't so difficult, after all; the world is.
A quiet thriller about a woman searching for her estranged husband, who has gone missing in a foreign country. I loved this book. I loved it as a character study, I loved it as a rumination on love, marriage, grief, and endings. I loved it because there's not a lot of action, but the plot never felt empty.
The Rules Do Not Apply • Ariel Levy
I am such a fan of Ariel Levy's writing in the New Yorker, and this memoir did not live up to my (admittedly very high) expectations. It felt like the entire book was constructed around Levy's stunning and memorable Thanksgiving in Mongolia essay, which is fine — but I don't think the narrator has lived the ending of her story yet.
Thirteen Reasons Why • Jay Asher
I read this one after I watched the TV show, because I was curious how Jay Asher wrote certain scenes. Unfortunately, already knowing every twist and surprise meant I didn't find the book to be as compelling. Had I done it the other way around, it would be a different story.
This novel follows K., a man transformed by grief after the death of his wife, who finds himself the hapless star of a reality TV show. It's both timely and clever, and it brought to light some uncomfortable truths about the world. I read this with tears streaming down my cheeks, and they were inspired by an even split of laughter/heartbreak. (Though judging from the reviews, I think I felt more maternal and tender toward K. than most readers.)
In the Garden of Beasts • Erik Larson
Erik Larson is all about using precise research to weave a fascinating work of nonfiction that reads like fiction, and this book is no different. This story focuses on the American ambassador to Germany during the rise of the Third Reich, and his flamboyant daughter, who slept with everybody but Hitler. The book took a fascinating approach to a subject I thought I was already familiar with, but it was kind of like watching the Titanic crash in slow motion. I kept shouting, "Nooo!" at the page, but nobody listened to me.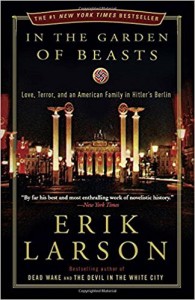 The Calculus Diaries: How Math Can Help You Lose Weight, Win in Vegas, and Survive a Zombie Apocalypse • Jennifer Ouellette
I read this when I wanted to employ some calculus theorems in one of my essays. Then I discovered the essay worked better without them. I finished this book anyway, which says a lot about the conversational voice and the author's unique lens on calculus.
Underground Airlines • Ben H. Winters
The premise of this alt-history thriller is compelling: It's the present-day world, and almost everything is the same. Except the Civil War never happened. The execution of this story is a little uneven at times, and I was more interested in learning more about the world Winters constructed than in solving the actual mystery at the heart of the book, but it's definitely worth reading.
Dear Ijeawele, or a Feminist Manifesto in Fifteen Suggestions • Chimamanda Ngozi Adichie
Brief suggestions for raising a feminist child in a world that remains threatened by equality. This will be my go-to baby shower gift from now on.
Small Great Things • Jodi Picoult
I'm always suspicious when an author's name is bigger than the actual title on a book cover, which is the case with Small Great Things, but I read this book anyway. I wish I hadn't. It is tries so hard to be A Very Important Novel, in the same overwrought vein as A Very Special Episode of Growing Pains.
The Sun is Also a Star • Nicola Yoon
Teenage love between a Jamaican immigrant who is about to be deported and a first-generation Korean-American poet boy, plus fleeting looks at the other characters who cross their paths.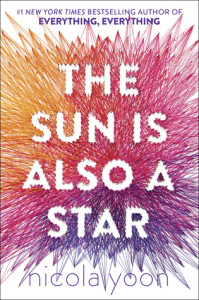 How to Get Filthy Rich in Rising Asia • Mohsin Hamid
This novel is written in the second-person in the style of a self-help book, so the structure is what initially attracted me. The exquisite prose made me stay.
A Country Between: Making a Home Where Both Sides of Jerusalem Collide • Stephanie Saldana
An American writer makes a home with her new husband on the dividing line between East and West Jerusalem. This is an empathetic and lovely memoir that makes me desperately want to visit the Middle East again — this time for an extended period.
Ahh-mazing. Just read it.
An unsettling LA noir about a writer, a nanny, a boy, a bunny, and how their lives intertwine high in the Hollywood Hills. Every few pages I found myself pulling out a highlighter to preserve some of the most sumptuous passages — and by the end of the book I was highlighting every damn thing.
You Will Not Have My Hate • Antoine Leiris
Antoine Leiris is a French journalist whose wife was killed by terrorists at the Bataclan in Paris. His heartbreaking Facebook post inspired this slim tribute to the exceptional and enduring power of love. It feels both shockingly intimate and universal.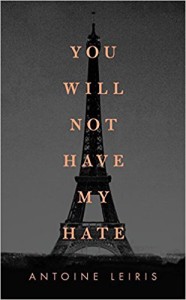 Classical Chinese Poetry: An Anthology • David Hinton
A friend in book club loaned this one to me when I was looking for something lovely to read, and this did the trick.
Trespassing Across America: One Man's Epic, Never-Done-Before (and Sort of Illegal) Hike Across the Heartland • Ken Ilgunas
This is the true story of a man who walks the entirety of the proposed Keystone XL pipeline — his goal is to have conversations about climate change, fossil fuels, and the oil industry with the people who will be directly affected by the pipeline. What's really incredible about this book is that my staunchly conservative dad read it first, recommended it to me (<– not a conservative), and then we had a fairly reasonable discussion about climate change.
Today Will Be Different • Maria Semple
I have nothing to say.
Girl Waits With Gun • Amy Stewart
This is the book that helped me plow through the high-anxiety period around Inauguration Day, waking each morning at 3 a.m. with a racing heart and fretful mind. In those wee hours I turned to this sassy piece of historical fiction, in which one of America's first female deputy sheriffs defended her family against the gang of bullies who threatened them. #Relevant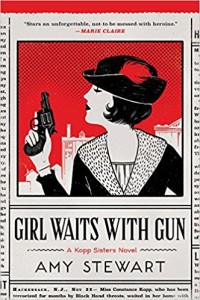 What You Don't Know • JoAnn Chaney
A story about a serial killer that's violent, gripping, thrilling AND funny? JoAnn Chaney makes it happen. Bonus: Her female journalist character is spot-on.
Satire is so hard to get right, but this is masterful. Little wonder it won the Man Booker Prize.
This was my first time actually reading Frankenstein, and I'm embarrassed it has taken so long. Turns out the story is nothing like I thought it would be, this book is breathtaking and gorgeous, and Hollywood's version of Frankenstein's monster is a lie.
The Wonder Trail: True Stories from Los Angeles to the End of the World • Steve Hely
I think I'd like Steve Hely very much if I met him at a hostel somewhere. Instead I met him on the pages of this book.
The Best Women's Travel Writing, Vol. 11: True Stories From Around the World • Edited by Lavinia Spalding
This one is the sweetest one of all, because I'm in it! When I made my backpacking trip around the world, I carried a couple volumes of The Best Women's Travel Writing with me. My wish was that someday I would have a story compelling enough to share and the ability to write it well. Seeing my own name inside this book was that dream realized.
I'm biased, but I think this is the very best book on my list.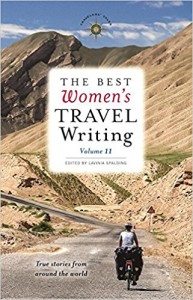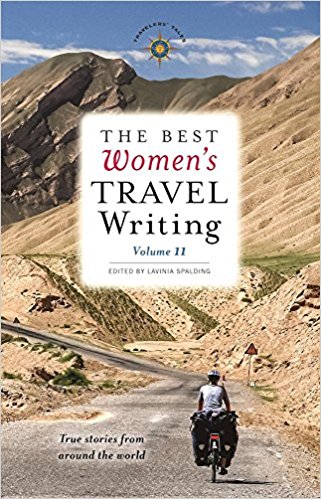 This page contains affiliate links. All opinions are my own.