Hi! I'm Maggie.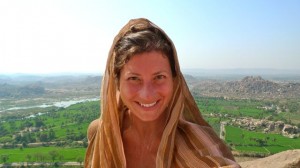 I'm a writer. Photographer. World traveler. Coffee guzzler. Recovering newspaper journalist. Adventure collector.
I met the man of my dreams when he pushed me out of a plane — no joke, he was my skydiving instructor — and we've lived in sunny Palm Springs, Calif. since 2005.
In July 2010 I quit my job at a newspaper, set out for some independent globe trotting and visited 18 countries in one year. After making it all the way around the world I'm still awful at hailing cabs, but I know how to order noodles in seven different languages.
Mmmm. Noodles.
Now I'm back in Palm Springs, where I am a freelance writer and a marketing consultant, and I recently completed my Master of Fine Arts degree in creative writing at UCR Palm Desert. The Husband and I have a happy family with one ninja cat and a disabled dog. Our first baby was born in July 2014. His name is Everest — we hope he'll summit mountains.
To read my clips, check out my Contently profile. My essays have appeared in the Los Angeles Times, the Washington Post, Roads & Kingdoms, Racked, The Rumpus, and Eating Well, while my reported work has been published by the BBC, Smithsonian, Outside.com, Palm Springs Life, the Cincinnati Enquirer, The (Palm Springs) Desert Sun, USA Today, and The Write Life, among other publications. I write about children's books for Barnes & Noble Kids, and I cover parenting issues for BabyCenter.
Thank you for visiting my blog.